Welcome to the World of Chatbots
Chatbot, Bot, IM, Talkbot, Interactive Agent, and several other names have been given to a technology that has been around since the 1950's but, with the advent of such services as Apple's Siri in 2010, IBM's Watson in 2011, Amazon's Echo (Alexa) in 2014 and numerous others since then, is now starting to rise as a mode of customer engagement and lead generation.
To Bot or Not to Bot?
Traditionally, most companies have used human customer service representatives to handle most customer issues and questions, and, depending on the quality of these representatives (and the company's own policies), often have achieved quality customer satisfaction. Why then change this with Chatbots?
There are, actually, some very good reasons – as well as a few cautions – why a company may choose to discriminately use Chatbots—and we, as customers, may prefer to engage with one.
For starters, in a report by Drift, SurveyMonkey Audience, Salesforce, and myclever, only 43% of consumers would prefer a human to a bot. While this is not a small number, it does show that the pendulum has swing in favor of engaging with bots. Furthermore, 55% of those surveyed indicated they would enjoy the instant access and answers to simple questions Chatbots would provide.
Intelligent FAQs
Providing simple information, tailored to the specific questions a customer may ask, is a reflection of the current abilities and rapid advances being made with AI, and depending on the sophistication of the bot, will most likely become a prevalent form of company-customer engagement. In fact, like it or not, by 2020, it is expected that more than 85% of customer interactions will be handled without a human. If this seems a little high, just think about the last time you asked Siri (or Google Assistant, Microsoft's Cortana, Samsung's Bixby, or Amazon's Alexa) to find the nearest lunch place or gas station, what the weather will be tomorrow, or the current DOW J average, etc.
There are apps, websites, and online searches you could use instead, but it typically proves easier just to ask a personal assistant "who" just happens to be a bot. Just think of this as "Intelligent FAQs."
Some Compelling Reasons for a Company to Use Chatbots
In addition to quickly answering simple questions, there are a number of compelling reasons for companies to use chatbots:
Customer service availability can be 24/7/365, providing a customer or lead immediate access.
Reducing customer service call costs, which according to IBM, can be reduced by 30%.
Freeing up time for human customer service representatives to deal with more complicated customer issues.
Conversions. According to a study in the Harvard Business Review, the best time to respond to a sales call is within 5 minutes of an initial call. Add to this a wait time of 10 minutes decreasing the chance of a sale by about 400%, and one can see that a chatbot, being immediate, makes it more likely for a lead to convert.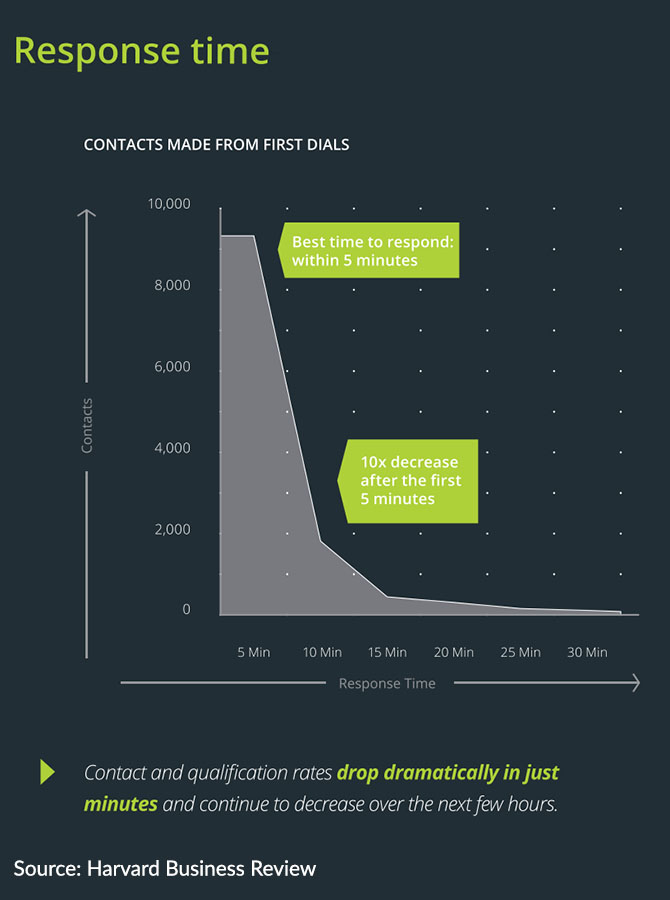 Even if the service would require a more customized sales closing that (at least at this point in time) only a human representative could do, the very act of instant engagement with the prospective client / buyer, increases the likelihood of conversion.
Perform basic tasks like scheduling calls/appointments, adding someone to a mailing list.
Basic financial transactions, such as paying bills, transferring money, buying tickets.
Collect data. To use the Chatbot, the person can be guided at key points in the conversation to fill out their basic info. Additionally, all conversation data can be captured to review later.
Current Usage of Chatbots by Mainstream Companies
Currently, several mainstream companies are now utilizing bots for basic business transactions:
The Wall Street Journal, for stock quotes, company comparisons and information
Staples, for common questions, tracking orders and returns, current stock of items, etc.
KLM Royal Dutch Airlines, for ticket reservations and changes, current flight status, gate changes and other real-time data
Starbucks, for orders before you pick up (or have delivered)
Wholefoods, for recipes and products
Bank of America, for helping customers' financial decisions
Bots for Financial Services Firms
Bank of America's bot, "Erica," is just one of several financial firms already using AI technology. Some others are:
Capital One's bot, "Eno," helps customers to manage their accounts via their mobiles
HSBC (Hong Kong), with their bot, "Amy," provides basic customer support 24/7 and covers specific product pages
MasterCard, via a chatbot on Facebook Messenger, allows cardholders to see their purchase history, spending habits, and review and pay account balances
Royal Bank of Scotland's bot, "Luvo," was developed using IBM's AI platform, "Watson," and can answer questions to common banking questions, as well as execute a number of basic financial transactions.
Swedish bank, SEB Group's bot, "Aida," in addition to executing simple customer requests such as reviewing statements and providing client balances, was also used by SEB to aid its internal IT support, which has improved the bank's efficiency scores.
Investment Advice and Wealth Management
Also at various stages of execution and development is the use of bots to aid customers in investing and wealth management. One major question at present is how the AI behind the bots can interpret transactional data for practical use (e.g., financial advice). While AI can learn from the mistakes it makes, much depends on the accuracy of the initial data and the protocols that assess it. The groundwork, however, is already in place to develop solutions to such problems, and, while present Chatbot investment advice is still basic – e.g., stock/bond portfolio balance given an investor's stated and historical risk appetite – when we consider the exponential learning curve of AI, it is most likely only a matter of time before bots will advise customers in a much more granular manner.
Bots for Law Firms
There are currently several bots for law firms, which primarily answer the more basic legal questions asked. In fact, according to Attorney Marketing Network, 90% of the most frequent questions asked by attorney website visitors can be answered by a chatbot.
Chatbots can also remove the stigma of speaking with a human about uncomfortable circumstances, especially when talking about legal issues. Given that the bots can be programmed to then ask for basic information, such as name and contact information, as well as the ability to collect and record data, an attorney can save time when reaching out to the person who has shown interest and, who, having already been helped with some information, increases the likelihood of conversion.
Some of the more prevalent legal bots are listed here. And, if you're feeling adventurous, here is an article on building your own legal chatbot.
Some Compelling Legal Considerations of Bot Usage
While there are potential benefits to bot usage, there are also some legal considerations. Farah Mukaddam, in the Social Media Law Bulletin, provides a good overview of these, some of which we cite below:
Chatbot Policy: What will be your internal policy that defines such parameters as what and how much information a bot may give, what tasks it may perform, what data can be collected and stored, etc.?
Data Collection: How will active user consent be obtained? How will privacy be protected? How will the user's data be stored securely? Can this data be easily deleted in all forms (backups, etc.)?
Compliance: Depending on the particular chatbot purpose, will its usage comply with industry standards and regulations, as well as what is permissible by law?
Disclaimers and Terms and Conditions: What should the user be made aware of before beginning usage of the bot?
Liability: What safeguards have been put in place to make sure that a bot (in simulated conversation modes) "behaves" in an appropriate manner, staying clear of language that could be considered harassing, abusive, or libelous?
Chatbot Development Considerations
If you do decide a chatbot may help your company, you will need to decide what platform to build it on. Several, such as Google DialogFlow, IBM Watson, Amazon Lex, Facebook Wit, all have various licensing options, development tools (with relative ease or difficulty), language capabilities, etc. Since we, at Animus Rex, are on the Google Cloud Platform, our choice for chatbot platform is DialogFlow, and it is upon this that we would build any chatbot.
But before the above is chosen, one would need to first consider:
What the chatbot functions should be
How sophisticated these functions are. For example, simple interactive FAQs should be pretty straightforward to set up; more involved interactions would require more development
What rules should be used, e.g., outlining contexts, events, training phrases, responses and actions
Cost, including setup and development, maintenance and subscription, etc.
Other considerations
So should you Bot? Or not? If only you had a Chatbot to discuss that with you….
Have questions? Contact us. We're not bots (but can make them)!
Thanks and be well,
~Your Friendly Animus Rex Team