"Like driving a Lamborghini
when you're used to a Hyundai."
Every feature of Web CMS is designed around three powerful ideas:
speed, security, and ease of use.
Speed
Blazing speed directly translates into a better customer experience, both on desktop and mobile. 40% of website users will abandon a page that takes longer than 3 seconds to load. Even our most complex websites load in about a second.
Security
Websites get attacked multiple times a day. Web CMS keeps you and your visitors safe with secure cloud hosting, active monitoring, continuous backups, free SSL certificates, encryption at rest, multi-factor authentication, DDoS mitigation, machete-wielding ninjas, and more.
Ease of Use
Web CMS's intuitive interface makes it easy for your non-technical content editors to get the job done. Our thoughtful, time-saving features streamline website management and saves you time, money and unnecessary frustration.
Other Features Include
Highly secure cloud CMS
Flexible and unlimited layouts
Mobile friendly
GDPR compliant
Integrated pitch builder
Email marketing
Social media integration
Global CDN for media/audio/video hosting
Analytics and data capture
Native financial charting
Websites, landing pages, microsites, blogs, web apps
And much more...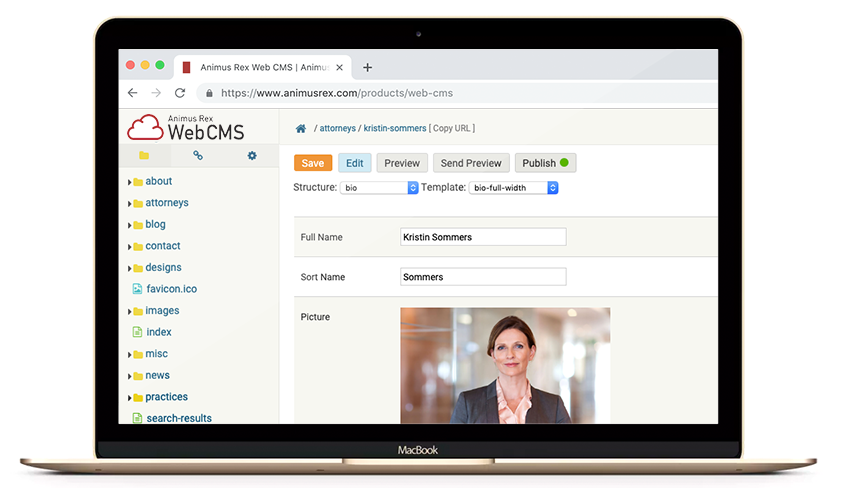 Animus Rex Web CMS powers websites for some of the most prestigious brands in the world. Organizations like MetLife, iHeart Media, Cahill Gordon, and the Carnegie Council have chosen us to keep their websites secure, reliable, engaging, and easy to manage.
Isn't it time to turbocharge your website?